Kayseri Ergies
Ergies is a paradise fro skiing...
Сity of Kayseri was important shopping center of Anatolia and thanks to beautiful nature tourists from all over the world are coming here. One of the main touristic places of Kayseri is mountain Erciyes where one of the most popular ski resorts is located.
Location

Erciyes is the highest mountain of middle Anatolia is located on the south of Kayseri. The peaks of the mountain, which were once extinct volcanoes, are covered with snow at all times of the year. On the northern part of the mountain there is a 1 km long glacier. The ski resort is located on the northern slopes in the Tekir valley, with a length of 2100-2900 m on the eastern section of the mountain, and valley tourism is carried out here in summer, and ski tourism in winter. In addition to skiing, this place is very popular with climbers.
From Mersin to the ski resort can be reached in a couple of hours. This location allows you to swim in the sea and go skiing in one day.
Skiing season

Ski slopes and mechanical installations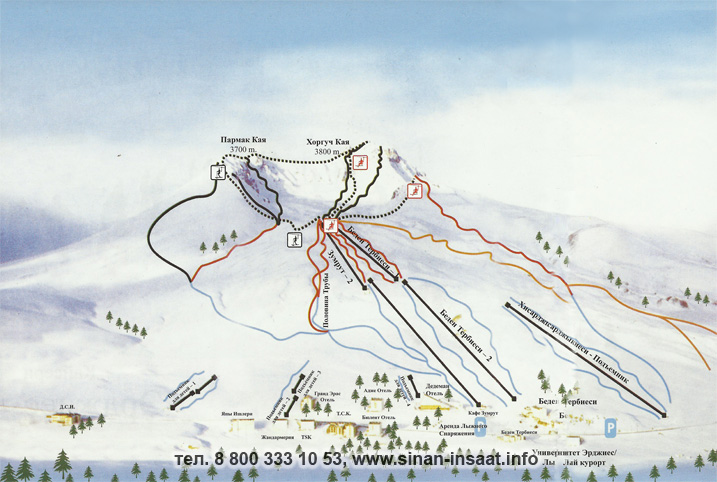 Accommodation and other services

The resort has hotels. The hotels have restaurants, swimming pools, discos, bars. Here you can get lessons from an instructor and rent ski equipment. First medical aid and security are also organized in the region.
Transport
Erciyes ski resort is located 25 kilometers south of Kayseri. The way to the city will take 30 minutes to the center, and in 40 minutes you can drive to the airport (Kayseri-Erkilet).
Hotel information
Pension Erciyes Ace
25th km of Develi road
Mount Erciyes,Ski resort, Kayseri
Tel: (352) 342 20 53 (Pbx)
Fax: (352) 342 20 56


This email address is being protected from spambots. You need JavaScript enabled to view it.




Bulent Hotel
Mount Erciyes, Erciyes / Kayseri
Tel: (352) 342 20 12
Fax: (352) 342 20 14


This email address is being protected from spambots. You need JavaScript enabled to view it.


www.bulenthotel.com
Grand Eras Hotel ****
Erciyes / Kayseri
Tel: (352) 342 21 28 (Pbx)
Fax: (352) 342 21 38


This email address is being protected from spambots. You need JavaScript enabled to view it.


www. granderas.com.tr
Hotel Mirada Del Lago ****
Hisardjik Mount Erciyes
Erciyes / Kayseri
Tel: (352) 342 21 00 (Pbx)
Fax: (352) 342 20 24

Erciyes Dag and Kayakevi
Erciyes / Kayseri
Tel: (352) 242 20 31
Fax: (352) 242 20 32

Hotel Mirada del Monte ****
Hisardjik Mount Erciyes
Melikgazi / Kayseri
Tel: (352) 342 21 00
Fax: (352) 342 20 24